Last month I wrote about myself, Me and my "AND"s. But my "Ands" are not limited. I really believe that this is just one life for me and I have to do lot of things yet. But our life is full of tensions and worries. How is it possible to fulfill all our wishes in just one life? There should be someone who can take away all these worries and tensions away from me and help me to reach my dreams. I wish I would meet the Genie once, so that I will give my list to him.
Indeed the list is huge. But If I meet a Genie who can assure me that I can be "Befikar Umar bhar" then I have just five things on priority that I would love to do.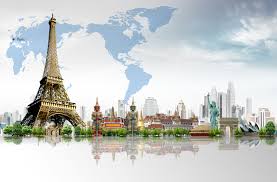 5.Wish A World tour alone :
Yes, I want to see all the beautiful things on earth at least once. The best way to complete this wish is to go on world tour. My inspiration is Raj Kapoor's movie, "Around the world". I love the song "around the world in eight dollars". I know its not possible to take a tour in eight dollars now. Anyways my wish is to take a world tour to paint each and every corner of the world. I wish to go alone because I do not want to disturb my family members to get bored while I do my paintings.
4. Wish to be a wildlife photographer:
This is quite connected to my other activities. But knowing auto mode of camera is not referred as photography. I really want to catch the wild life of India in my camera. Freezing wild life movements is a tough art. But this is my inner wish to be a wildlife photographer
3. Wish to do Salsa performance:
I love this dance form. I tried to learn it once, but could not continue to some reason. And hence my wish to learn salsa is incomplete. I would definitely going to learn salsa and one performance is a must, to know that I really learned it!
2.Wish to Learn Tabla :
Instrument learning is too difficult, once you grow up. But if I am "Befikar Umar bhar"with my Genie then it's possible for me to learn the Tabla. It really requires a lot of attention to learn the sur, taal. And I strongly believe that age is just the number,it cannot hold me from learning Tabla.
1.Wish to have a craft school for elders:
Craft school for kids is known concept. But no one believes that craft school for elders is a need of today's busy life. This way they will not feel lonely. I know it's very hard to learn anything in old age, there are various health issues which restricts older persons to learn something new. But being busy in craft activities is not a rocket science. Many older persons do yoga, join laughing club, do morning walk. Those who are already in any art field they continue with their singing or instrument playing. In my school the syllabus will be such that they will not find it difficult to learn. At the same time they will not find their life boring. At the same time they will contribute positive energy to other elder persons too. This is my big dream , I know it will take time to come in reality.
This post is a part of indiblogger contest entry for #BefikarUmarBhar (Live The Life You Have Always Dreamed Of) by IDBI Federal Life Insurance Co. Ltd : http://bit.ly/BefikarUmarBhar.
Watch the video:

IDBI Federal gives you #5 reasons to stay #BefikarUmarBhar http://bit.ly/BefikarUmarBhar