I am a die hard fan of Kapil's show. I think all most of us are fan of him. I remember when Sonam Kapoor was guest at show for promotion of her movie Khoobsurat. I was like….yee!!!! who is this guy with her? I didn't like him at all….
I hardly watch TV shows apart from Kapil Sharma's show " Comedy nights with Kapil ". However, I was curious about Zindgi channel . The serials on Zindagi are not like other daily soaps. I mean those endless episodes….for year after year…. With no end…each serial have lot of festivals, events , lots of characters that too with changing casts …
Whereas , Zindgi serials are too fast… Not too fast like movies…..Most of the serials end within 2-3 weeks. And the story goes so fast that we can relate with it.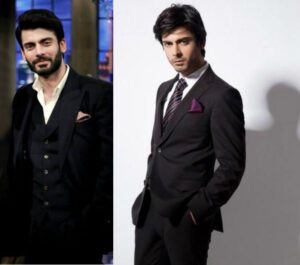 However, I was attracted towards Zindagi with "Kitni Girhain Baaki Hain" and then slowly I became a fan of this channel. My other favorite serial was "Jindagi gulzar hai"….And I never missed any episode…Once when I was watching repeat of my favorite serial "Jindagi gulzar hai", my friend send me chat message
"what's up"
Me " plz.dont disturb… watching favo serial…Fawad khan"
My friend said" what?!?!" followed by various smiles and a question " u mean that Yeek actor?"
Me "who says that? He is too good"
"Let me remind u, it was your opinion for Fawad previously"
Me " Really! How u know"
Then she reminded about my opinion when he was with Sonal for promotion of movie in kapil's show. I was shocked….ohhh…how I said so weird words about so cute person?
Thank God… he is not with the same boring look… I really didn't like him with his beard look. He looks so cute with a clean shaven face. If a common woman like me can have this misunderstanding, imagine what about lots of, lots of other fans. Actors really need to have well groomed face always. Otherwise, they will lose their fans out there.
This post is a part of #WillYouShave activity at BlogAdda in association with Gillette.  Thank You Sujata  for tagging me and I accept your challenge. Dear Blogger friends Shilpa Jadhav Pavan More Maniparna Sengupta Majumder ,Keyur Seta , Radhika Maheshwari , Prasanna Rao, Anu Lal  Will you please take the #WillYouShave challenge?