Those days are gone where we would search "Mera wala Pink". U&US Home design studio from Godrej has understood this very clearly and has brought innovative idea of visual designs while designing furniture and interiors of their dream home.
Being blogger, I was invited for the for a discussion about 'Celebrating Craftsmanship with the use of Technology' Esha Gupta. Founder of Design Pataki at U & Us Home Design Studio , R-City Mall, Ghatkopar on 21st of May 2016.
We were hosted with renowned designers for making our own creation with the in-house designers. The panel consisted the Masters of Design : Esha Gupta(Founder of Design Pataki) , Krsnaa Mehta(Founder of India Circus) , Architect Rooshad Shroff and Ronitaa Italia Dhanu ( Editor of GoodHomes)
Their discussion focused on how the process of designing home and interior is often difficult, boring, time-consuming and cumbersome. Customers face difficulties on choosing material and confused with furniture lay outing and designing etc. However, U&US Design Studio have made this easy for their customers and their new launched studio helps their customers to decide with easily with various digital stations there.
What you will find in U & Us Design studio?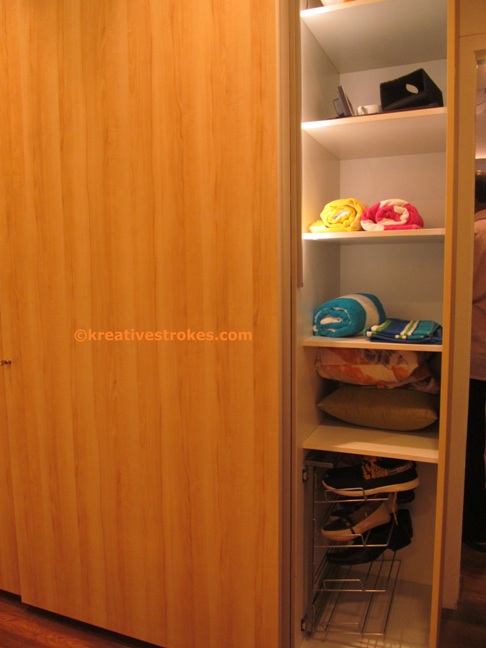 1. Discussion Layout: You will find miniature furniture here. The digital layout helps you to fix the positions of windows, doors and electrical points. Then you can place those miniature furniture which way you want them. The touch screen helps you to change and make innovative arrangements. The final arrangement is displayed on the screen in 3d format.
You can design your home interior with expert designers here.
2. Color Visualizer: At this station, again you have the choice to select home interior elements like Wood polish, flooring, wall color, fabric and laminate with the help of hexagon shaped color cubes placed at this station. I really loved this unique fun based technology by U&Us.
You can see ideas come to life with 3D design platform.
3. 3d Visualization: 3d visualization software helps you to visualize your own homes and take walk through inside each and every room. Editing furniture placement or color is possible before finalizing the details.
4. Prototyping area: At this station you can create your own models with thermocol or paper etc. This station helps where it is difficult to explain the concept in playful manner. With each and every station at U & Us Design studio make you to play an active role in making your signature home dream come true. Co-creating your own customized furniture is just possible due to technology. And thus we see very nice combination of technology and art at U & Us Design studio.
With U & Us Design studio you can design your dream home , just the way you imagined it. You have to just sit back and relax while U & Us set up your interiors. And finally step inside a home that is as usual as you are.
Visit once for the hassle free execution of unique design to match your lifestyle and home space. Find more details about U & Us facebook   U & Us Design studio Twitter  U & Us Design studio on youtube
You can find more about a curated online magazine as well as online store & design lab- Design Pataki. Their products are of high standards quality.
P.C. Kreativestrokes / U & Us facebook  and Sujata