Driving a car is always a fun !!!! I experienced it recently when came from Alibaug to Mumbai while returning from the vacation. The real freedom of driving with fun that I experienced was unbelievable! The same fun , freedom factor I found in Datsun redi-GO – The True Ultimate Urban Cross !!!!
It's not just my view about this fantastic hatchback, but it's the requirement of today's generation. You will find the today's young generation wants freedom while driving at the same time they know how to have fun with great confidence. All these three factors are present in the new Urban Cross with the best of Japanese technology!
Freedom :
Freedom of viewing : You get better freedom of viewing the road and the other surrounding area. That's not all, you get more freedom for your movement while driving inside the car with the heightened stance the Datsun redi-GO. The best-in-class Ground clearance feature makes your driving experience for free. Watching out for safety is easier with this feature.
You will feel more freedom while driving Urban Cross with daytime running lamps as it indicates your arrival on the road all time. It's good safety feature for you as well as for the pediatrician.
Shift Indicator gives you more freedom of driving as it shows you the ideal time to shift for maximum efficiency and performance.
Confidence :
Power windows give more confidence as driver and co-driver can easily operate the switches with more ease. The location of switches is more important feature that gives you confidence while driving.
i-SAT (Intelligent Spark Automated Technology) Engine allows smooth driving. It automatically adjusts spark timing in reaction to the requirement of power along with quality of fuel.
The 5-Speed Manual Transmission of Datsun redi-GO gives fantastic control along with smooth control along with accurate shifting as per the driving requirement or emergencies.
Modern Dash Layout gives you more confidence of knowledge at the same time it ads beauty to your car. The modern look of the digital tachometer keeps you informing about the current status of the fuel. This features helps you to maintain fuel economy. While driving you will know how much fuel is remaining and average mileage etc information you get right in front of your eyes ready on the dashboard.
Fun:
The classy and spacious interior is another factor which adds confidence to you while driving Datsun redi-GO . It is very convenient for five people along with the space for luggage. Enjoying driving and going out for picnic with friends and family is just fun with Datsun redi-GO .
Not just interior but YUKAN design of Urban Cross is fun too. You know what Yukan means….in Japanese it means brave and bold….Thats the perfect word to describe the exterior of this car.
Audio System with MP3, radio, USB, CD and Aux-in makes you to enjoy the ride and have more fun. The Indian weather conditions requires superior Air Conditioning , and Datsun redi-GO's does have optimized air conditioner which gives you more comfort inside.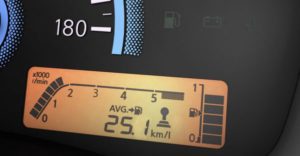 I guarantee you that all these tempting feature of Datsun redi-GO would make you to have the test drive. You can book your car at