It was a surprise from blogadda recently. I registered for the " BOLT experience" I was excited as it was in Orbit mall Vashi. I guess this first ever activity of blogadda in navi mumbai. And it was very close from my place. However, as I though many other friends from city were not ready to come to vashi. So, I went alone. But I got lot of surpises there. I met one of my bloggermate there while I was leaving from there. And both of us just enoyed the Bolt experience.
When I reached, I enquried about the features of the car with the boltpersons there. I sat in car, seen all the features, checked the dickey space, enjoyed music and took lot of pics.
First let me tell you about the fantastic specifications of the car.
Multi-drive: This is the first ever car with this specification in India. As we know , how difficult it is to drive in city crowded area. This car provides you with 3 special feautres. SPORTS-ECO –CITY. If you are in city , can change to city mode. This is a perfect fuel saving feature. If you come out of city and want to have brust power experience, then can change the mode to SPORTS. I must say , we have never seen such fuel saving feature in any car.
Bolt comes with Turbocharged MPFi petrol engine and electric Power Assist Steering.
Rear seat Folder: You can fold the rear seats which helps to create more space. The seats are too comfortable for three persons. If two persons are sitting then we can pull down the shoulder seat which makes the journey fantastic. Seat belts for rear seats are also not disturning for the persons who are enjoying the ride.
The back side of the front seats are curvy at backside. This gives more leg space for the people sitting at backside.
Air cousion: As we have seen the car has spacious interiro, but apart from the most important aspect is your safety. Bolt gives more importance to it with the special air cousion provided
GEN ABS: The safety is more important when you are driving. Hence the most important is the control on car. Your safety is in the hands of BOSCH. Even if you apply sudden brakes, the car doesn't skit with the Gen ABS by BOSCH.
Entertainment: As we are now habituated to touchscreen mobiles and tabs, yoy will miss the touchsecreen experience with the touchscreen infotainment. Its easy for navigation system as you can use itfrom MapMyIndia.This system is provided by HARMAN. Connectivity and entertainment is the best feature of BOLT XT
And now, let me share about my special surprise. To my surprise, I met the great calligrapher , Achyut Palav sir. He visited Inorbit for shopping and he saw me taking pic with BOLT. He spoke about his Nasik workshop and I could capture that nice memory of meeting Palav sir at BOLT point.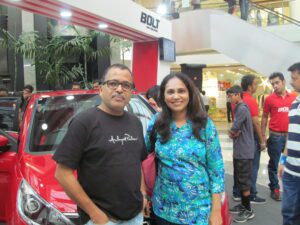 Be ready for GET SET BOLT experience in your city too. Check this BOLT arena