Telephone dhun mein hansane vaali
Melbourne machhali machalane vaali
Melbourne is the part of Indian music with this song by A.R.Rehman. We can see the elegant look of Melbourne and many more interesting places in Melbourne in the various shots of this song.
Melbourne is famous among all travelers with various attractions related to art, music, sports and various festivals. Sport lovers plan their visit according to the matches in the Melbourne Cricket Ground and Melbourne Park MIFF. Film lovers never forget to visit Melbourne Underground Film Festival or Melbourne Queer Film Festival. It's all time favorite for food lovers, sports lover, adventure lover and backpackers too.
There are useless reasons to fall in love with Melbourne. However, what attracts me more?The most unusual thing I like about the city is Penguin Parade. It's Australia's greatest wildlife attraction. Watching thousands of cute penguins marching towards their sand dune burrows is no doubt an amazing experience. But this is the third thing I will do in Melbourne.
And my second reason of my Melbourne vacation is to visit the Peninsula Hot Springs. India is known for herbs and Auyrveda. Same way here we can find the natural hot springs , just one and half hour away from Melbourne. Entering the bathing area is like stepping into heaven. Its a place where the mind and body are calmed by the steam, relaxing aroma and the sound of running water. It's a place where time is forgotten and lingering is part of the code of harmony……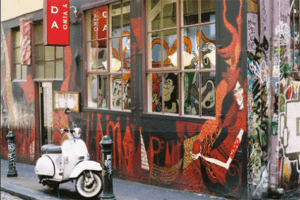 So, what's the first thing I will do in Melbourne? Melbourne is a land of inspiration for artists. Art lover like me will definitely not miss the opportunity to visit various art galleries and demonstrations by various Melbourne artists. I would arrange my vacations according to various art festivals . Various art walks, art talks and art workshops are held at NGV International . At painting workshops the introductory class of three hours is too good for the new learner like me. So that I can do my own painting here with the guidance of the art masters at Melbourne.
For me the most exciting is the and street art. Melbourne is worlds's greatest street art capital. Here we can see the unique expression of art in various forms. The street art covers various forms like Stencil art,sticker art, street installations, poster art , port art , Graffiti , découpage, collage, papier-mâché. Off-course , the murals and graffitis are done with the necessary permission at the suitable locations. For stencil art paper or cardboard stencils are used to do the spray paintings. Whereas in sticker art various images, stickers or prints are used to create a art form. I would not even miss the opportunity to visit Hosier Lane for guaranteed inspirational artwork. That's the place where I can get to see the art in progress.
This post is the part of indiblogger activity  Tourism Victoria website
Now a question for all readers and avid travelers
CONTEST FOR ALL READERS
Que : "Which of these places would you want to visit in Melbourne and why?"
The best answer will receive a shopping voucher worth Rs.500/-
Post your answers in the comment.
(The contest closes by 5th Jan 2015.)