7.45 am ….2nd may 2015 …
I received a chat message "Thanks for the images". It was indeed a great moment to receive simple appreciation from a great watercolorist Vikrant Shitole.  Actually I shared some of his paintings exhibited in Dombivili Art show with our artist group in whatsapp. He was talking about those images. I respect him so much that I become speechless when I am with him or on phone. I just forget what I wanted to say or what I wanted to ask him. The same thing repeated then, when next line popped up "I am going to Belapur today for landscape. Sorry I should have informed you before. Are u coming?"
O…My God… There was no question to say "NO" for such golden opportunity to watch him painting live. The painting spot was close to my place, maybe that's the reason why he asked me about joining his outdoor session. Actually I was supposed to go out with my friend Anu. But with a fraction of second I changed my plan and said " I will be right there at spot, sir". May be that would not have been an exact demonstration of painting but a great opportunity to learn while watching him painting. Watching demos don't always give you all knowledge but give us new vision and sometimes some ideas strike that we neglect in normal course.
Though whatever I learn from him doesn't reflect in my paintings. And off course there is long way for me to reach that level….but always eager to hear his thoughts about painting. Once while judging competition Vikrant advised us that each and every artist friend is our guru and everyone contribute to our success. This is indeed a great thought to respect our friends too.
His artistic greatness is visible in awards he won at national and international level. There is a huge list of his Achievements:
2014 : Best watercolor award – International Creative Art Centre
2013 : Bronze medal – Palm Art Award, Germany 2014
2013 : Finalist "You be the judge" Contest. USA
2013 : Finalist Louisiana Watercolor Society, USA
2013 : Istanbul Watercolor Society Contest Award
2013 : Finalist California Watercolor Association
2013 : Chitrasangam Art & Cultural Academy award
2013 : Indian academy of fine arts award, Amritsar
2012 : Palm Art Award, Germany
2012 : Finalist in International Watercolor Society Contest
2012 : Istanbul Watercolor Society Contest Award
2012 : Art Society of India- N.D. Naik award for Outstanding entry
2001 : 2nd Prize for landscape at Nehru centre watercolor study camp
You must be wondering why I remember the day so much. Even though Vikrant is great artist by heart, he is a down-to-earth person too. He the man, who is undeniably #madeofgreat.
Coming back to my story… After receiving his message I quickly dressed and was ready to go. Since the spot was nearby my house, he came to pick me from my house. I was feeling so awkward with his kind gesture. We met one of his students on the way who then guided us to small jetty. The spot was awesome for painting. I did a small painting myself and sat beside Vikrant to watch his painting process. Sometimes it's make you depress when you watch experts painting with such ease. As my painting journey is recently started, I could realize that there is long way for me to reach even 10% of his level.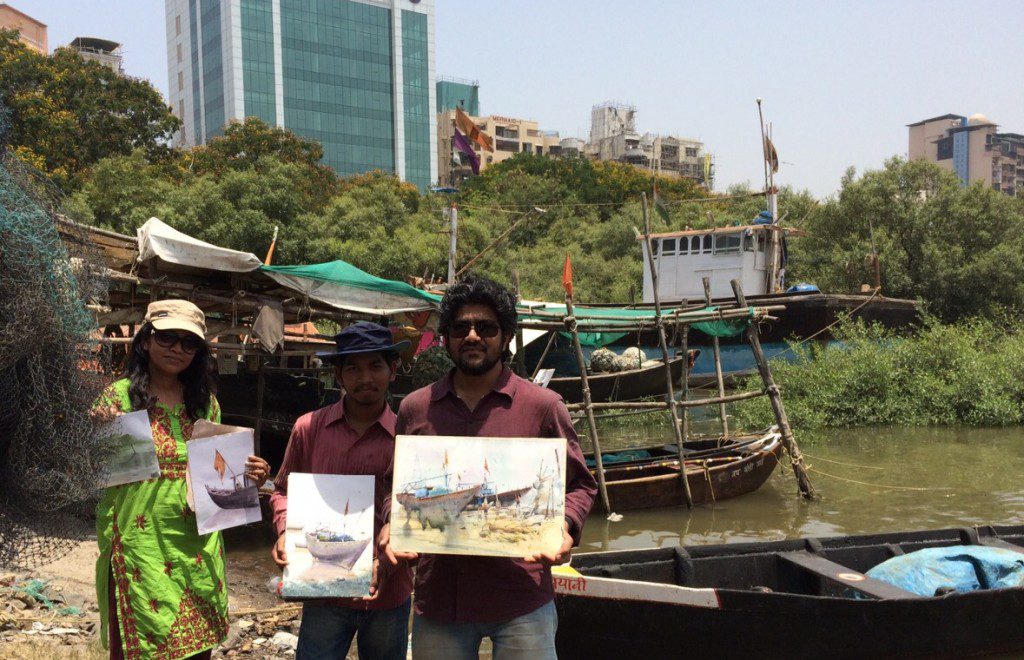 But I surely wanted to use this opportunity to ask him lot of questions that are bothering for long time. Which material should I use at my learning stage? Why sketching is important? Which medium should I use? Which is the easiest medium to work? But instead I asked the funny question. "Do you practice every day?" And he smiled at my bewildered look on my face and calmly said "Very less with my hectic routine" And frankly accepted that "I won't give excuses, but I want to work on something different than normal landscapes. There are some different plans and May be that's why this gap is needed." And I could see the changes in his painting style since he has shifted to UAE. Nowadays watching his cityscapes is feast for our eyes.
After a silence of moments, I succeeded to utter a word about myself. , "I am practicing but don't understand where I am lacking?" I am practicing for last one year and not at all satisfied with my own paintings. So though to ask him what exactly I am missing.
And Vikrant gave me an answer with deep meaning. Though it is related to painting, it also fits with life experiences too. " Why you are being so conscious? Be yourself."
" Tell me, Suppose after some time , If you really like your painting , will you share with all?
I breathed deeply and answered "Yes"
Vikrant smiled and said, "Then if you think… this is your failure phase…. Enjoy it"
He was right…. Most of the time, we spend our energy in thinking about failure. If we can enjoy our success, we should learn to enjoy our failures too. His each and every word encouraged me to face all those difficulties in process of learning painting, understanding spaces, watching magic of light and shadow and looking beyond what we actually see. The day I spent with him was lasting impression and impact on my life.
I am thankful to Indiblogger for giving me opportunity to share my lovely experience of lovely person who himself is #madeofgreat. Wondering what is #madeofgreat? It's a campaign ran by Tata Motors. Tata motors is no doubt a great brand for excellence and innovation. The other talented youth icon is Lionel Messi. His struggle made him tough. What are common in Lionel Messi and Tata Motors is reliability, trust and simplicity. And Tata Motors' association with Lionel Messi is going to be #madeofgreat http://madeofgreat.tatamotors.com/
Enjoyed reading my experience? Here is something for you too….An exciting contest for you all readers by Tata Motors. Rs. 750/- You can win Amazon voucher for the Best Comment , which answers :
" What do you think of Tata Motors' association with Lionel Messi ?"