We all know that it would be a great fun when it flashes" New indimeet" thread on indiblogger forum. This was my 8th indimeet and was anxious to make my FRIZZY hair TO FANTASTIC ! This special event was organized to unlock the solution to frizz free hair by the brand Dabur. This was special event as it was 'woman only' bloggers meet.
I started early with my new hairdo for my green date with Dabur. When I reached the venue, I was confused as I saw everyone with black suit. I was holding the address in my hand , so checked it again. Then I saw the indiblogger – Dabur Varika welcome Signage, and smiling face of Anup and Vinit. So, I was reached at the right place! But we were supposed to wear green to show our love towards the brand Vatika. Those were marketing students invited by brand, wearing formals and sitting quietly as if they are attending a lecture. I met Anu at the registration booth and we headed towards the tables searching for our other friends. I found Sujata was waiting for me in first row. I also met new blogger friends.
I grow up using dabur oil , so was anxious what is new they are offering. Hair has various interesting anecdotes in Indian Mythology. We all are aware of various stories like offering hair at Balaji where hair has devotional shade or heroic stories like Chankya where he owed not to tie choti till annihilating Nanda dynasty. Apart from mythology we have various hair stories in bollywood whether we want to show terror , sadness. Remember the song "O hasina zulfo wali" or " Na jahtko julphose pani" and so on. Even we have seen various hair style right from Meena kumara, Sadhana, Sharmila Tagore to Dimple , Rekha, and even Priti Zinta. Dabur has 70 years history and it's true as my mom has taught me how to use it.
The event started with an awesome Indiband. It was as usual energy charging when we do "Ho…Hooo…..Hooooo". With introduction of Dabur's uniqueness , we suddenly saw Big bottle of Jasmine non-sticky hair oil rising up. And we could feel the fragrance of Jasmine in the hall. We had a good round of question and answers after that. And also discussed various frizz remedies and few blogger suggested home remedies too. The even went more interesting when we played the game "Paper- seizer". Then came the announcement of various contest winners. For first time I won a twitter contest. Since it was lunch party, we headed towards testing awesome food. Dabur Vatika gifted us with goodies and the surprising gift was we all were offered head massage and hair style. It was wonderful experience watching green beauties with different hairdos.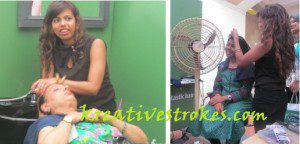 Thanks to Inditeam and Vatika for such wonderful date. Here are few pics which are not of good quality as I was more interested in enjoying the event than clicking pics.
Photo courtesy :   Divsi  , Indiblogger facebook Album