Have you heard about #EkNayiLeague ?
Seems like a foolish question, because this question is most trenching on twitter and other social media nowadays. Who has asked this question? 🙂 again a foolish question…. None other than Kapil Dev, former captain of Indian cricket team.
But what is this Nayi League? Is it totally related to cricket or any other game? Is it related to some social cause? Suspense is still not revealed.
It is not declared on web, however a few video clips helps us to predict about this #EkNayiLeague. Mr. Kapil Dev has asked us to guess what this league would be. I watched his various videos where he is talking about his new league. All videos are like some clues for us to think over what this new league is about. He remembers Dev Anandji for his valuable advice. Dev saab told him when he decided to take retirement, that "No retirement…. Never" He still remember the golden words of Dev Anandji and those words seems him inspired to take initiative to start this new and unusual league.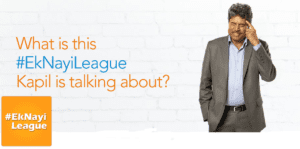 In one of his video he has addressed Kapil Sharma. I like kapil Sharma as Bittu, Kapil dev addressed Bittu and asked him to follow him on twitter to know about his #EkNayiLeague. Since he specially addressed Bittu, I feel that this new league is not just related to sports or cricket. It could be related to our day to day life moments. The game played will not be just played by heart. That game may be of talent and intelligence.
As Bittu invites celebrities in his show and also involve common people in the show. My other guess is Kapil Dev might involve celebrities as one team and teams of family members of common man as a second team.
He also talks about money in other video clips , so the other predication is that this #EkNayiLeague involves prizes. But not sure whether the prizes will be in which form. Kind hearted man like Kapil Dev will surely include some social cause in this show. I guess if common man wins the prize goes to him and prize will be donated to some social cause if celebrities win.
He has addressed Sania Mirza , famous tennis player. I really feel proud as Sania has set an example of woman empowerment of Indian women. So, I guess there will be some interesting things that Indian women can showcase through this new league.
Whatever the format, I am sure that this #EkNayiLeague will not be quiz, contest or show that previously we have seen on television. Oh….yes even this is TV show or online contest that has to be unrevealed by him.
Now few hours are left to unrevealed this suspense. Follow on twitter to Mr.Kapil Dev to know what is this #EkNayiLeague. More updates are available on http://www.eknayileague.com/