Festive time means lot of shopping, new clothes, gifts and sweets. We never imagine of any festival without sweets. But for My mom who is a diabetic since last 20 years, it's very tough to enjoy festivals seasons without sweets. There are lots of restrictions on her eating habits. She mostly prefers black tea, but how can she avoids other tempting sweets?
However, for so many years Sugarfree Natura, is the part of her life and she almost enjoy all sweets and mithai's. This gave me a reason to prepare some new recipes for my mom. It includes ladoos, gujiya, kheer, basundi and ice cream too. But most of the items are made once or twice in a month. But my mom's favorite is "Sheera" . Sheera is made of rawa(Sooji) and also offered as naivedya for pooja and other auspicious occasions. Sheera prepared during pooja includes ingredient like rawa, sugar, ghee and milk. Its preparation is different. Here I have made Rawa sheera with quick method, I learnt it from my mom.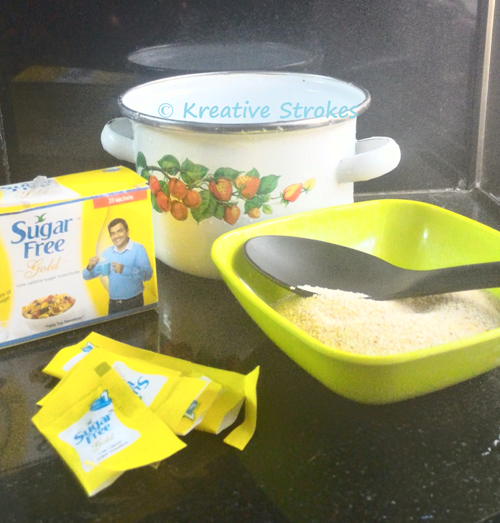 First I have roasted rawa to golden brown in kadhai. Even it should be roasted at low flame( whether we use non stick pan or normal kadhai). Whenever I have to roast rawa in bulk quantity , I use non stick pan. My mother-in-law do not like ghee smell ( I don't know why?) , so for her I use little quantity of ghee while roasting rawa. Even such rawa with less ghee (or no ghee ) doesn't smell awful ,even if is not used further for many days. But normally I use ghee because once or twice I make rawa sheera as my son loves it. So there is no question of keeping it for many days.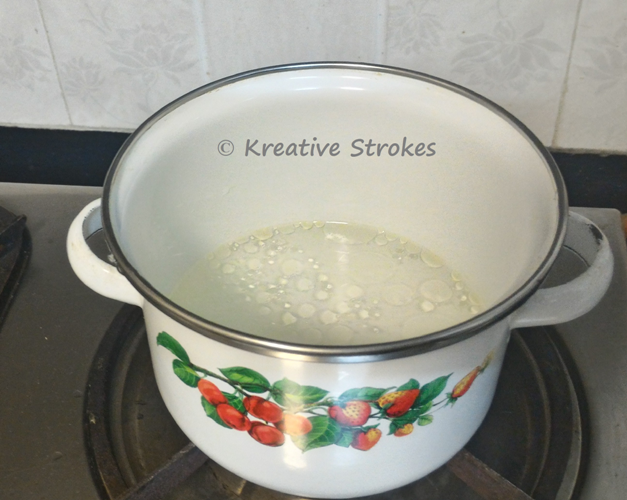 In another pan , I heated water and poured Sugarfree powder in it when it boiled. I have taken sachet box, so that I could measure it correctly. One sachet equals to two table spoon of sugar. I used 10 packets of sugarfree sachets which equals to 20 tablespoon of sugar.
When the solution started to bubble, I immediately added roasted rawa, cashew nuts and saffron threads to it. At this stage, I need to keep on stirring the mixture till it becomes thicker. Then I added milk ( ½ cup) to it and put a tight lid to have a nice steam for the mixture. The moment I removed the lid after 2-3 minutes, I stirred the mixture well and my rawa sheera is ready to serve. Whether we serve warm or cooled sheera , it is loved by all.
The whole process takes 15 minutes. (That's the only time I get when my son order me to make sheera). But this one is specially made for my mom as it includes sugarfree instead of Sugar. Now even I prefer this as it taste as if I have added sugar to it. If you find my recipe tempting, then check http://sugarfree-india.com/ to use Sugarfree Natura in many more ways.