I entered the building gate and found a new nameplate fixed on a wall just near the staircase. This is the normal list of all owners in any society or complex. Since our society was new, it took few months to have such board in our building. I looked at room no 12 to see my husband's name. I was surprised to see that they painted wrongly my brother-in-law's name instead. I was thinking, how these people can make such a mistake? I asked my husband regarding it. He did not pay any attention. I immediately informed my parents that the house where I was staying in not owned by my husband.
What was the Truth?
Since mine is an arranged marriage, my parents went to meet my in-laws before marriage. My parents loved the artistic nameplate displayed on the door. It was finely carved but was having just a surname. My mother-in-law explained that how my younger brother-in-law always try to give some unique artistic look to home and it was his idea. It was an unique name plate indeed!
And now, when I saw brother-in-law's name as the owner of the house, I was surprised. Me and my parents realized that we were cheated misguided regarding the house. My parents advised me to compromise as any Indian parents would do. It's not the question of ownership. I do agree that we are one family and if our mind and soul matches, then all these practical things would not matter. But here, the truth was not disclosed to me. Even after enquiring about it, we were not answered properly. Sometimes not having transparencies may create a distance between relationships. They purposely tried to hide few things from me and broke the trust. I tried to convince my husband to buy a new house. But he always refused by giving lots of excuses.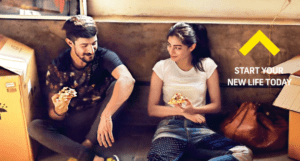 After a year, I changed my job and joined a firm in Mulund. It was the place where my elder brother-in-law was staying temporarily at our father-in-laws house. They decided to shift to their new home in Kalwa where we were staying with in-laws. And since our Mulund house was vacant, I requested my husband to shift their for a few days. He tried to refuse by saying they want to rent that house. However, my request was accepted, as I was pregnant.
I started my new life with no support from other family members. My husband told me very clearly, "This is your decision, you have to face all the difficulties all alone. I will help you, any will never say no to my responsibilities." He did what he said. Now we have shifted to our own home in Navi Mumbai. But this would have never happened, if I would have not taken that brave step to start a new life.
Why I remembered this incidence?

Thank you Housing.com for letting me this opportunity to share my  #StartANewLife story. We come across lot of moments where we get confused whether to believe someone or not? Whether to go ahead with what we feel?encourages to embrace #Changeg Yes, our first step is very important. Have a look at this video for more details. https://housing.com/
Sometimes the slightest things change the directions of our lives, the merest breath of a circumstance, a random moment that connects like a meteorite striking the earth. Lives have swiveled and changed direction on the strength of a chance remark."
― Bryce Courtenay