Last week I received an invitation from Romedy Now to be a part of a select preview screening show that would be held on Monday, 3rd August. Since it was a secret screening, I was wondering what could be the surprise I will get on Monday at 3 pm.
I reached the venue before time and was warmly greeted by Ms. Gayatri and Mr. Dewvashish. While having coffee, I clicked few snaps which gave me some hint about the secret. You can see in the above image that talks about the famous telenovela #JaneOnRomedy. Jane the Virgin is an American television series which is a combination of romantic comedy plus drama TV serial.
I was right, it was indeed India TV premiere of Jane the Virgin. This television series will be telecasted from 5th of August from Monday to Friday at 7 pm. on Romedy Now Channel. The duration of the series Jane the Virgin will be one hour. It's an ongoing television comedy-drama series in the United States which was debuted on 13 October 2014.

You will see for the first time in India the people's choice award winner in the 72nd Golden Globe Awards. Golden Globe Awards honors the best productions in film as well as television industry. The specific award was for productions done during 2014 and the award was given in Jan 11th, 2015. Also Gina Rodriguez won award for the category "Best Actress" Musical or Comedy Television series. And as I said earlier this series is the winner of "Favorite new TV comedy" award in the category of people's choice award.
The story goes like this. Jane is the simple, young 23 year old lady. She is thinking to get marry with her boyfriend Michael. She is highly dominated with her grandma's views regarding virginity. But her life changes when she finds herself pregnant. It happens as her gynecologist wrongly inseminates her. The sperm doner, Rafael who is fighting against cancer and this biological baby is his last chance of being happy. His wife also wishes to have the baby. What decision Jane took? Does she sacrifice for Rafael and her wife? Or she accepts his boyfriends and grandmothers wish? To find these answers you need to watch Jane the Virgin from MON- FRI on Romedy Now.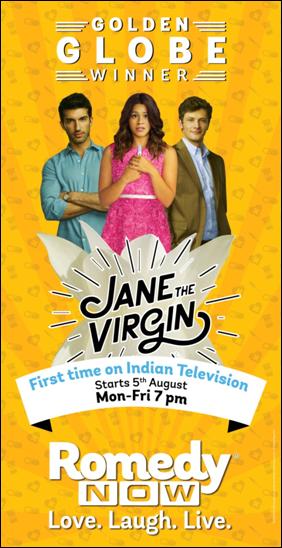 Image Courtesy : Sujata Tawde